The aged care facility consists of 70 modern rooms for those requiring assisted living. Adjoining this is the Palmer Wing, which includes 14 individual rooms with ensuite bathrooms that are specifically designed to meet the needs of people with symptoms of dementia.
The Aged Care facility is managed by the Clinical Care Manager.
The facility also has a team of skilled allied health professionals and experienced Activities staff involved in coordinating the activities and lifestyle aspects of our residential care. Medical Practitioners, pharmacists, podiatrists, dental and an optometrist visit on a regular basis.
A group of local General Practitioners (G.P's) with an active interest in aged care, conduct a weekly medical clinic on-site at Dougherty and this clinic is available for all residents, both residential care and self care. Appointments for this clinic can be made at the office on level 1 reception.
Dining Room
Dougherty has a HACCP accredited kitchen and all kitchen staff are trained in providing clean and safe food. Most meals are provided by an external caterer, Baptist Care Catering Services. Meals are nutritionally well balanced as menus are prepared in consultation with Baptist Care's Catering dieticians.
We have a winter and summer menu comprising of selections made by the Residents' Menu Committee. All residents are provided with a copy of the season's menu.
Entry
All residents must posess a current ACAT assessment. Please contact your local hospital or G.P. to arrange.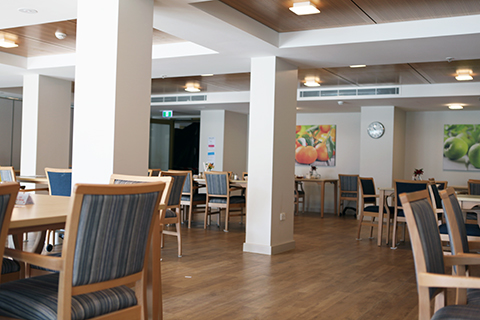 General Practitioners
Residents are encouraged to maintain their own General Practitioner, however it is important that your G.P. is able to make home visits if necessary. Also that they can communicate with our staff to ensure continuity of care.
Transportation
It is preferable that your family assist when they can, however transportation can be arranged, and escorting by Dougherty staff incurrs an additional charge.
Dougherty has a solid reputation in the industry for providing a high standard of accommodation and care and there is currently a waiting list for our residential places.
Food
Cultural, religious, philosophical and special dietary choices are respected and incorporated into the menus provided.